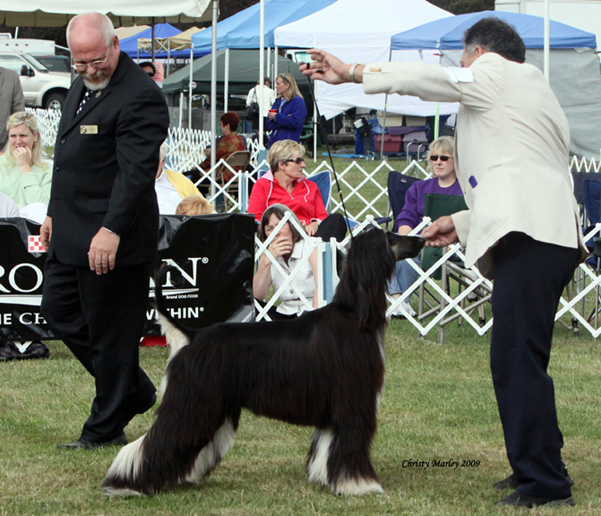 Gr. placing Am Ch. Raffica's Valymir Sweet Victory X Top producer 2007 Am CH. Raffica's Yankee Doodle Dandi

We would like to thank all the photographers for snapping these wonderful pictures of Starla:
Ron Bigelow, Barbara Chace & Christy Marley.


Starla finished her American championship in very
limited showings at age 2 with four majors and a BOB
from the classes for a major over SBIS competition.

Judith Newton WB. BOW, BOB major
William Russell WB BOW major
Robert Robinson WB BOW major
Rachel Irvin WB BOW major and finished!
Thank you judges!
Watch for Starla's sister who went WB & BOS her first showing....
Raffica's The Thrill Of Victory "MyLee".




While Starla was winning her third major in the month
of June to complete her American Championship, Afghans
from RAFFICA KENNEL were winning all over the
world at the same time.
Iceland:

Raffica's Victoria's I've Got A Secret
"Story"

Group 1

Congratulations to
Sunniva Hrund Snooradottir.

China:

Am. Chinese Ch.
Raffica's Memory Lane of Irkei
"Laney"

Group 1
Congratulations to: Owners Mr & Mrs. Wang

USA:

Ch. Raffica's Victorious
finishes with her 4th major!

Starla

Lives at Raffica

USA:

Sterling's Sinful Elegance Of Raffica
"Fallon"
wins a major from the 9-12 class as
well as a BOB and GP. 4...

Congratulations to
Colleen and Stevie Mc Dowell
on such a wonderful job with Fallon!

USA:

Ch. Stormhills Sweet Dreams of Raffica
"Ella"
recently won Group 1 at the Mt. Baker
show under judge Anne Savory Bolus (Pictured).
She also has three other group placements
to date.

UPDATE!
Ella took group. 1 and group. 3
over the 4th of July weekend.

Breeder's: Mary Offerman,
Terri Vanderzee & Stormhill Kennels

Owners: Garret & Sue Games,
Sandra Frei & Terri Vanderzee

South Korea:

Herat Raffica Sinful Opera
"Piano"

Piano was introduced to her
first show while I was there
visiting and I had the honor
of watching her go BIS JR
Puppy under Japanese judge
Mr. Kosaka Masashi.

Congratulations to Mr. Han
her owner.

Raffica Afghans Hounds & Chinese Cresteds
Sue & Garret Games
Please visit our website at:
www.rafficaafghans.com
Raffica@aol.com